Implications and Applications
First Idea
For this assignment, I wanted to create a UPPSS based on the ideas I had thought of for my final project. For a couple of months now, I've known I do not want to work with the
ideas
I had had previously. I've been toying around with the project of making a capsule wardrobe using all (or most) of the techniques that I've learned during Fabricademy. The idea first came because of a friend, who mention a movement called
Project 333
. The whole point of this movement is choosing 33 garments, and use them to generate outfits that last 3 months. I, however, wanted to take it a step further.I want my project to be a call upon sustainability, to support a more minimalistic way of life, and eliminate the overconsumption culture that has dominated the fashion industry since the industrial revolution. I was talking to
Ale
, who had had a similar idea, and we both thought it would be interesting to work on the project together, combining our different abilities. We both designed a system based on Project 333 and the expectations we had on what should be available in the market in the near future. But before I go deeper onto our UPPSS, here are the rules of Project 333.
Rules:
Design a "capsule wardrobe" every 3 months
33 items consisting of clothing, jewelry, accessories, shoes
Not included:

Sentimental piece of jewelry

Underwear

Sleepwear

Workout clothes (can only be used for working out)
In addition to these rules, Ale and I added the following ideas:
All of the items within the capsule wardrobe must be manufactured using at least 1 of the techniques learned during Fabricademy

Most of the raw material must come from recycled articles of clothing or plastics.

We will focus on a cradle to cradle model rather than on a regular sustainability model.

Principle 1: Design with a purpose

Principle 2: Design for longevity

Principle 3: Design for resource efficiency

Principle 4: Design for biodegradability

Principle 5: Design for recyclability

Principle 6: Source and produce more locally

Principle 7: Source and produce without toxicity

Principle 8: Source and produce with efficiency

Principle 9: Source and produce with renewables

Principle 10: Source and produce with good ethics

Principle 11: Provide services to support long life

Principle 12: Reuse, recycle or compost all remains

Principle 13: Collaborate well and widely

Principle 14: Use, wash and repair with care

Principle 15: Consider rent, loan, swap, secondhand or redesign instead of buying new

Principle 16: Buy quality as opposed to quantity
Now that every rule has been established, it's time to describe the Ultra-Personalized-Product-Service-System.
UPPSS
Basically, the flow starts when a customer decides that they want to live a minimalistic, sustainable life, but still be different or recognized by others, and that's where we come in.
The service we've designed is meant to help people who want to change their consumption habits, achieve this goal through the use of a capsule wardrobe designed specifically for them.
Types of perzonaliation
Product personalization
The personalization in a product level comes with the recycling and digital fabrication techniques. Using old garments to generate new ones, that are unique to the customer will support the ultra-personalization on a product level. Applying new techniques as L.A.S.E.R cutting these old clothes or printing on top of them, or using bacterial dyeing to color them will make each capsule wardrobe unique and sustainable.
System personalization
Even if some of the designs might be unique to the customer, there will be some that will need to be modified to fit each customer. 3D scanning and digital bodies techniques would allow us to generate a virtual version of the customer, and use its measurements to fit each design.
Service personalization
Because the "project 333" capsule wardrobe consists of accessories, we have considered implementing e-textiles and wearables technologies to our project. The customer can decide what variable they want to control or monitor, and then receive a customizable product as part of the whole set of garments. Each customer can personalize the wearable depending on their needs, so no two wearables would be the same.
I used the Business model canvas and a flowchart in order to schematize the service and make it easier to comprehend.
As for the Stakeholders, here's a list of the main interested parties:
Customer, who seek to have a more sustainable and minimalistic life.

Fashion brands and enterprises, which have an interest in promoting overconsumption, compulsive shopping, and are, in general, against sustainability.

Local fabric producers: In Lima, there's a gigantic neighborhood called "Gamarra", where fabric producers and resellers commercialize their products. Up until a couple of years ago, it was growing, because of the country's booming economy. However, after big corporations like H&M and Zara entered the market, these small companies have stopped growing, mainly because they cannot compete with their prices.

Government: reducing the country's carbon footprint and promoting sustainable economies.
First Steps
As part of the assignments, I have started cleaning up my wardrobe in order to decide which clothes we'll use as raw material for our final project.
I also comprised a preliminary list of essential items, and I've thought about how each of these garments relates to the themes covered throughout Fabricademy:
One color plain shirts (can be bio-dyed)

One color plain tees (bio-dyed)

Shoes (3d printed)

Shoes (Kombucha)

Shoes (modular fashion)

3D printed sneakers (computational couture)

Pants

Sunglasses (computational couture)

Scarves (bacterial dyeing)

Sweaters

Jackets

Blazer

Backpack (e-textiles, textile as scaffold)

Watch (wearables)
Second Idea:
Inflatable Rocking Crib + Smart Blanket
"There is nothing like mom's arms ... but here is the next best thing!"
Alexandra
and I felt like our idea wasn't well received among the global instructors, so we decided to opt for something else. We brainstormed (and we brainstormed A LOT) and managed to generate different ideas. The first step was analyzing what was asked of us, and what the rest of the students had proposed as the final project. We decided that the most adequate of ideas would be one consisting of a wearable and e-textiles, but also combining other techniques like parametric design in grasshopper. With these parameters in mind, we set out to generate many ideas. Among them, we considered:
Pneumatic mannequin that changes dimensions according to measurements entered by the user, this way, when the body changes, the mannequin changes too, making it easier and more sustainable to design clothes or outfits.

Life vest that activates upon contact with water and has an electroluminescent device.

Bracelet that measures UV light, and indicates when sunscreen is needed

A skin electronics device for people looking for relationships, that activates when passing near other people with the same device.

A rocking crib which inflates and rocks to a rhythm similar to the parents' rhythm.

A baby blanket which measures vital signs and plays white noise to soothe the baby.

An integrated system between the crib and the blanket.
From all of the ideas mentioned above, we thought the combination between the blanket and the crib would be the best. If you check Ale's page you'll find more information on how this ideas came to be. Also, the customer journey can be found in her page.
I'll now proceed to explain how the system works, what our ideas for the future are, and how we'll be working together to get things done.
Rocking crib
The idea is to have a portable inflatable crib. After talking with some of my coworkers, they mentioned that carrying around all of the baby's stuff is the most tedious thing, so portability adds value to any product. Another issue is that babies are in constant need of being rocked to sleep, sometimes even at 3 am in the morning. This is clearly a problem for working parents. The goal is to create a rocking crib but that can be inflated and deflated anywhere and anytime so that it can be taken with the parents and the baby. There are some similar products on the market, but there are a couple of issues:
Not suitable for young babies

Not portable

Easily broken

Not suitable for a long period

They're uncomfortable
With all these issues in mind, we are determined to create a new crib that would be suitable for newborns, comfortable enough to sleep in and durable. During the conception of these ideas, we noticed some issues, but the main one was that these cribs are designed in a way that they restrain the baby and don't let them move comfortably. That's how the second idea originated.
Smart Wrapper Blanky
There's a special way that babies need to be wrapped in order for them to be secured and have enough mobility to be comfortable. That's why there are special blankets that are designed for these purposes. Even though these blankets are available on the market, their potential hasn't been fully explored yet. More often than not, babies are susceptible to sudden or abrupt changes in variables like body temperature. These blankets could be used to monitor such variables and act accordingly. Also, sometimes babies need noise to be able to fall asleep. A blanket with a fabric speaker that played white or pink noise could help these babies fall asleep faster. The blankets could also be used to monitor the baby's vital signs and notify the parents of any dangers. So, how to connect the blanket to the crib?
Integrated system
Another issued we encountered was that babies are accustomed to their parents' way of soothing. This means that the rhythm at which they move is familiar to the baby and they won't fall asleep with any other movement. What we thought of is: What if the blanket could record the way the mother rocks the baby, and then send the information to the crib so that it can move accordingly? What if the parents could personalize the rhythm at which the crib moves so that it is unique to the baby? What if the vitals monitored through the blanket could be used to control the movement of the crib and soothe the baby?
This is the vision we have for the future of the project, a smart kit consisting of a crib and a blanket. For now, we will work on developing each of the prototypes separately, and depending on how much time we have left, integrating them little by little.
Finally, this is how the personalization would be:
Product personalization
The blanket and crib would be manufactured using digital fabrication techniques and materials. The design can be personalized (mostly the blanket) using 2D design software like Illustrator or Photoshop, or even CorelDraw and Rhinoceros. Tools like laser cutters can be used to fabricate the textile pieces.
System personalization
The blanket must be designed using parametric tools like grasshopper so that it is able to be modified to fit every baby. Also, if the design is modular, then more pieces can be added, thus making a bigger blanket as the baby grows.
Service personalization
The idea that the system is completely integrated is what gives this project the ultra personalization at a service level. When the blanket "learns" the movement of the parents and sends it to the crib, this moves at a rhythm that's unique for every baby. Every parent moves differently, and every crib will move differently, so the movement is personalized to fit the baby's needs.
This is the customer journey we have in mind for our project: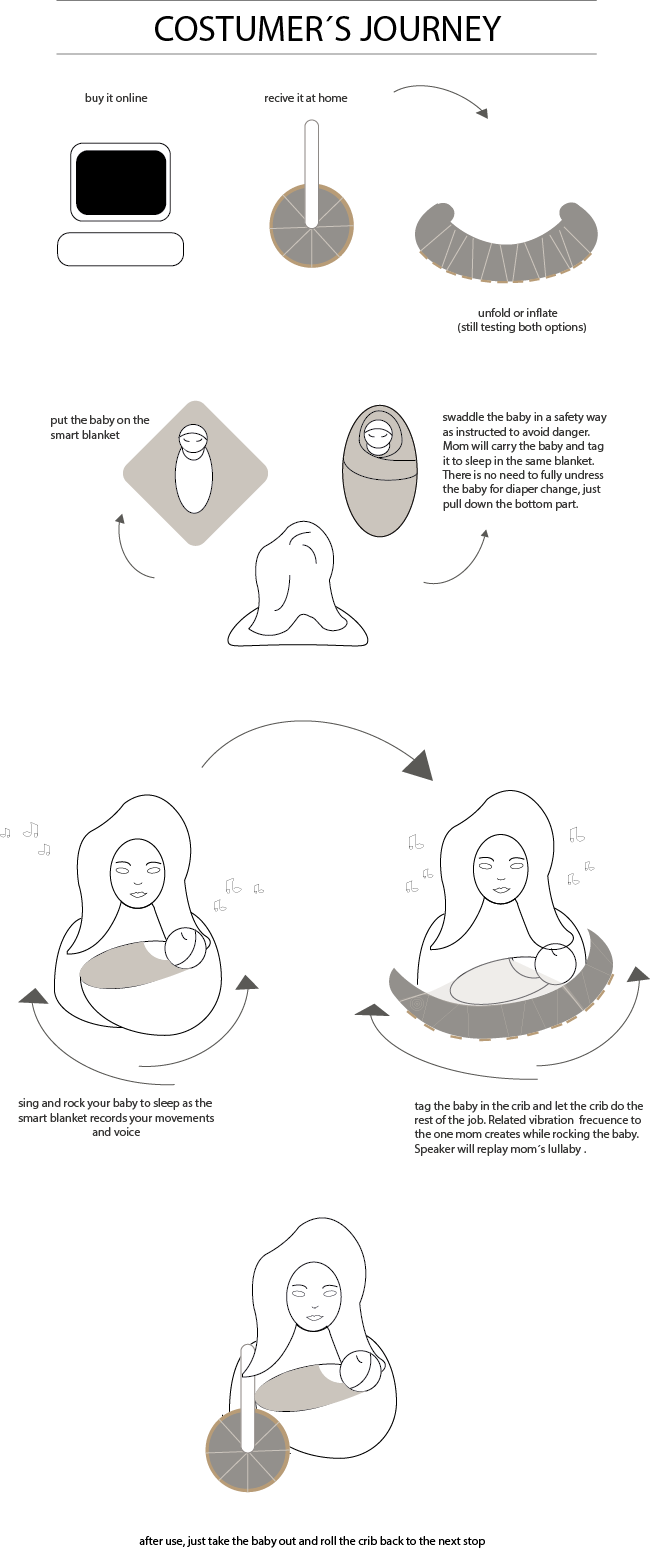 During these 3 months, one of us will work on the crib, while the other works on the blanket, after both prototypes are finalized, we'll work on integrating them. Of course, we'll help each other out. Here's a summary of our project
References:
Project Plan
These are the steps we'll be following the next three months:
January
Design the blanket

Design the crib

Design the locomotion system

Draw the patterns for the crib and the blanket using Rhinoceros and Grasshopper

Work on a bioplastic that doubles as a base for our electronic plaques.

fabricating the speaker and the sensors
February
Laser cut the materials

Fabric for the crib

Fabric for the blanket

Plywood for the cribs' base

Dyeing the materials using natural colors

Fabricating the blanket

Fabricating the crib
March
Integrating the systems

Testing each of the products separately

Final adjustments
These are the materials we are most likely to use during the development of the project:
Cotton fabric (for the blanket)

Synthetic fabric (for the crib)

Plywood (for the base)

Conductive yarn (for the stretch sensor)

Conductive copper thread (for the fabric speaker)

Neodymium magnets (for the speaker)

ATtiny 45 (controlling the movements of the crib and the monitoring of vitals)

Glycerine (for bioplastics)

Jelly (for bioplastics)

Starch (bioplastics)

Vinegar (bioplastics)

Conductive thread for soft electronic plaques

DC motor for the locomotion system

L298 modulus for the locomotion system
This BOM will continue to grow and be updated as we work on the project, as some difficulties may appear and we may have to change our plans.